"I only need to be healthy during the week!"
Every time that I hear these words spoken, I die a little bit inside. In believing that you can achieve permanent success in fitness by picking and choosing when to behave, you are cheating yourself of the success you deserve. To achieve permanent results, you must initiate permanent lifestyle changes that you intend to hold on to for the long haul.
That being said, there is absolutely no reason that you can't have fun on the weekends while living well and treating your body with the respect that it deserves. The weekend is an opportune time to decompress and let the stress of the work week temporarily fall by the wayside. Here are a few quick ways to avoid blowing your progress on the weekends and still enjoy yourself:
1. Be conscious of your alcohol intake. Chances are that you are going to drink on the weekends. There is absolutely nothing wrong with consuming alcohol as long as you are cognizant of what you are consuming along WITH the alcohol. Mixed drinks are black holes of sugar, carbohydrates and chemicals that can easily exceed your daily allowance.
A ten ounce margarita has more calories than a BIg Mac, according to CalWineries. Other high-calorie offenders include mai tai's, piña coladas and mudslides. Fear not: there are more nutritious alternatives. A 4 oz. glass of wine or a 6 oz. vodka & soda both come in at under 100 calories. Get your buzz but get it the right way!
2. Make exercise a social activity. Group workouts are a great way to mix up your fitness routine and get more people involved. My INSANITY Challenge Group meets every Saturday to get in a team workout – not only are we getting in shape but it's also a great time to spend time together and catch up. Group runs are a great way to stay fit together – meet up and jog through the park! Let's face it: friends who sweat together stay together.
Group sports are also a wonderful way to meet new people and get a great workout, especially around this time of year. There are recreational kickball leagues popping up all over the place these days (we have a great one right here in Baltimore!) and they are increasingly seeing corporate teams joining their ranks. Recreational leagues are great for all experience levels and are usually very flexible with scheduling.
3. Use the weekend to plan your meals. I am always hearing from my clients that they struggle to find time during the week to plan and prepare their meals. I totally understand: it takes time to go grocery shopping, do prep, cook and clean. I struggle with finding time to cook, too, but guess what? It's the weekend! You have time! Use this time not only to prepare nutritious meals for Saturday & Sunday but for the entire week! I have friends who do almost all of their cooking on Sunday and then freeze their meals until they are ready to consume them later in the week. Good news: freezing food does not result in widespread loss of nutrients. The National Center for Home Food Preservation also provides a handy guide to freezing foods.
4. Stick to your sleep schedule. Inconsistencies in your sleep schedule do more harm than good. While some people think that they can sleep four hours a night during the week and then hibernate for 14 hours on Saturday, studies have proven this to be grossly ineffective. Maintaining a consistent sleep schedule keeps your bodily functions (including metabolism!) regular and will make it easier to get back into your work week routine on Monday. While you certainly shouldn't wake up at 5 a.m. on the weekends if you don't have to, avoid laying in bed until 3 p.m.!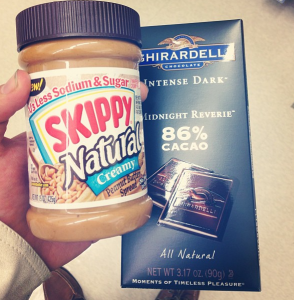 5. Have fun! Do things that you enjoy and surround yourself with wonderful people. Indulge in small treats and put your goals and achievements into perspective. Happy people are healthier, after all.
My favorite weekend indulgence right now is natural peanut butter and dark chocolate; dark chocolate containing 70% or more cacao is low in sugar (only 3g of added sugar per serving in 90% cacao Ghiradelli chocolate!) and high in fiber. Satisfy your peanut butter cup craving the healthy way!
Have a great weekend!