My ultimate relationship goal is to play a role that nobody seems to want to play: that of the Liberated Divorcé. Once my failed marriage has amicably ended in dissolution (aided by the pre-nup upon which  I will certainly insist), I will at long last be free to be openly disinterested in love and to do whatever I want with absolutely no strings attached. Perhaps after I go through the motions of marriage will people be more willing to accept my blasé attitude toward love.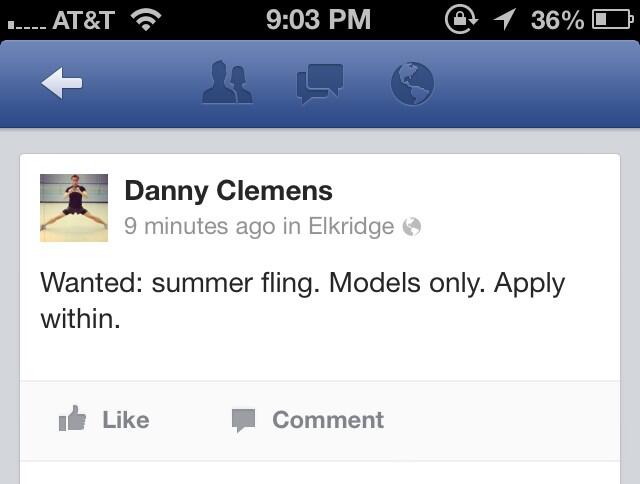 Sadly, I am not quite to that point in my life.
I am on every dating site known to mankind. From the more traditional Match.com to the frivolous okCupid, I have been around the block time and time again to no avail. I have no problem connecting with people; conversation is one of my strong suits. I would even go so far as to say that I love interacting with people – I just cannot find anybody who I find interesting on a  romantic level.
In the interest of full transparency: I am all for casual relationships.  I love meeting new people, going out and having a good time; commitment is where I find myself struggling. I can't even decide what to wear most days without changing my outfit 17 times so don't hold your breath for me to make any long term commitments in the foreseeable future.
My dreadful dating skills are compounded by my dislike for people who take themselves too seriously.  If we are just meeting for the first time, especially online, I do not care to know about your PhD,  yacht or dual citizenship (and, yes, these are all things that people have tried to use to impress me). I sincerely hope that people don't take everything that I say seriously and, as such, there is literally nothing that turns me off more than having to hear about how serious you think you are.
"I just studied abroad in Europe with Nobel laureates, it was so fulfilling!"

Me: "I just napped for like three whole hours." #dannydates

— Danny Clemens (@dpclemens) June 1, 2013
Double standard: I have a career that is Glamorous! and Exciting! so I reserve the right to brag and gloat as much as I see fit.
Despite my indifference to finding "the one", I nonetheless feel pressure to at least pretend to be looking for love. Everybody else is getting engaged, having babies and buying a home together while I'm sitting in my pajamas at 2pm eating cookies on the couch.
For now, I will continue to dink around on OkCupid. I'll halfheartedly answer all of my Tinder messages and keep casting my rod into Plenty of Fish (get it? pun intended). Just don't get your hopes up that you're going to catch me with a ring on my finger anytime soon.
My mother has said for years that she doesn't think I will ever get married. Instead, she foresees me impregnating a 20-something when I am in my 40's and then getting stuck with a gold digger and a bastard child.
Thanks, mom!
"I can do an infection, but I can't do love" @dapaticaldanny

— Nora Ezzat (@nora_ezzat) September 30, 2012
Like this post? Follow me on Twitter and Facebook and be sure to hit the Like button below!