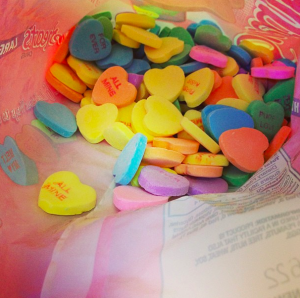 File this under "Things We Already Knew": nobody cares about how you and your significant other will celebrate Valentine's Day. A new study by BeNaughty.com finds that social media users would prefer not to be subjected to public fawning over your loved one this Friday.
Side note: How do I not already have a BeNaughty profile?
Couple's selfies, corny status updates and other flagrant displays of affection irritate the hell out of the majority of us on Team Single. Instead of paying any attention to our coupled friends, over half of us Singletons will be using social media to find somebody to bring us a box of chocolate and be gone in the morning.
No, we are not bitter and insecure that we are single on Valentine's Day. We just really don't care. People who are perpetually in relationships seem to be under the mistaken impression that all single people mope around and complain on Valentine's Day when, in reality, it passes just like any other day. Single people on Valentine's Day are like Jews on Christmas. We eat the Christmas cookies and open all of your Christmas cards but otherwise we spend the day watching movies and making fun of your ugly Christmas sweaters.
I also fail to understand the idea of "Singles Awareness Day". This is actually every day of the year that we are allowed to go out, flirt and have drinks bought for us while our less fortunate friends are stuck at home with their ball and chain (or, even worse, their children).
As for me? I will likely Instagram an unflattering photograph of myself pouring a bag of candy hearts down my face not because I am sad and depressed but because I love any excuse to eat candy and not feel bad about it.